Review of the Inglesina – Fast Table Chair – Hook on High Chair
The Inglesina – Fast Table Chair is a Hook on type high chair. For infant or toddlers who are less independent in sitting up themselves, it's my
best pick

out of all of the portable high chairs. The big limitation with these type of chairs is the compatibility to tables which you can install on. But that limitation is consistent across all hook-on type high chairs. So really, you just have to deal with it.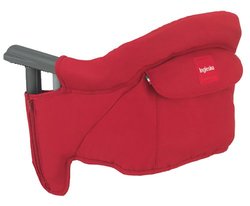 Personally, in my opinion there are other type of chairs that could be suitable for infants that provide the same support as the Inglesina hook-on chair, but it is not as near as portable, compact and safe. If you are travelling or taking to a restaurant, you want to be carrying a non-bulky high chair.
Note: With all types of portable high chairs, you have to supervise at all times. Even if you think the chair clips on tight, you just never know how your child can creatively climb out of it or someone bumps it and it falls. So always supervise and stay close with all high chairs, portable or not.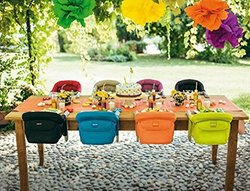 So if you have an infant and need side support with their seating. This is it. You won't regret it! It ticks all the boxes. I have below summarised all the pros and cons from hundreds of Amazon parents and grandparents. You can weigh up the option and decide if it is for you. Enjoy!
Pros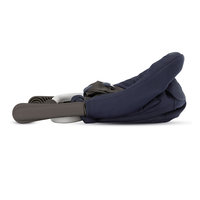 ✓ Compact and Fold Flat – All hook-on type high chairs can fold flat but what makes Inglesina better is the simplicty of its hooks and its not dangling everywhere!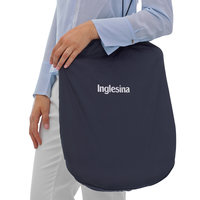 ✓ In-built Carry-bag –  The last thing you want is another item to carry. The Inglesina has an in-built carry bag. You pull out from the back of the high chair and the collapsed chair just fits into the carry bag.
✓ Light weight

✓ Mostly compatible with any tables – Being a hook-on type mobile high chair, you will always have this issue with table compatibility but the Inglesina hook-on design is the most compatible compared with the other hook-on type high chairs.
✓ Fairly Easy to Clean – Being a hook-on type high chair, you will always have the problem of food being stuck in between the folds as it is a bucket type high chair. But the Inglesina makes it better by being made out of material that is easy to just brush off.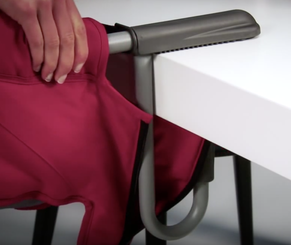 ✓ Quick and easy to set-up – Inglesina simplifies the design and makes it easy to set-up and very versatile with most tables.
✓ Sturdy and good quality – Inglesina is a more premium product so you would expect to get a sturdy and good quality hook-on high chair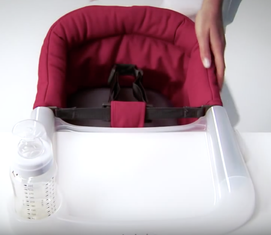 ✓ A tray that snaps on easily – You can buy an add-on accessory tray for the high chair which snaps on and off easily. The tray also stays in place and the child cannot move it around or play with it.
✓ Back-pocket – A clever design by Inglesina which incorporates a back-pocket that allows you to store your essentials during meal time like your wipes, tissues and maybe even your mobile phone! haha!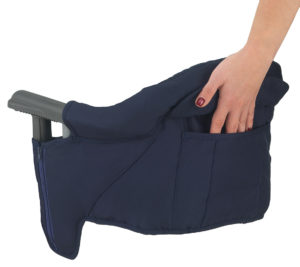 ✓ The clips do not create marks on table – An issue most hook-on high chairs have is the marks they can create on your table from the hooks. Inglesina's hooks pride itself that it does not leave marks on your table.
✓ Zipper encloses metal loops – This is a clever little detail as it prevents your child from standing on the hooks and standing up. Being enclosed like the Inglesina, your toddler won't be able to stand up on it.
Cons
✘  Compatibility with tables – This is an issue across all hook-on type portable high chairs anyway.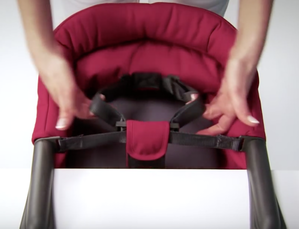 ✘  Straps can be wiggled out – In any type of portable type high chairs, straps are not made like your IKEA high chairs or car seats where it is meant to be so tight that your child cannot wriggle out. The straps act more like deterrent for them to get out and encourage them to just sit on the chair. You need to always supervise when using any high chairs and especially portable types. So really this is a con for all portable high chairs.
✘  Food gets stuck inside seat –  Being a bucket seat like most hook-on type high chairs, food does fall easily into the seat and more so if your toddler does not fill the seat. And in addition to that, the food does get stuck in between the folds.
✘  More expensive than others –  Being a more premium product that is sturdy and of quality, a more premium price will come with it too 🙂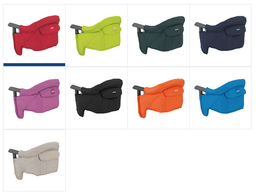 In summary, I personally still prefer the Benbat Yummigo Booster due to the fact it overcomes some of the issues of the Inglesina. Being it is much more compatible with most chairs, no issues with table compatibility, much easier to clean and much easier to set-up. However the Benbat Yummigo Booster is only really suitable for toddlers who can sit up quite well as it is not a bucket seat like a Hook-on portable seat. So if you have a child that is not quite confident in sitting up yet and you need a portable high chair to travel or out at restaurants, then the Inglesina Fast Chair is your Best Pick!