Why every travelling toddler needs one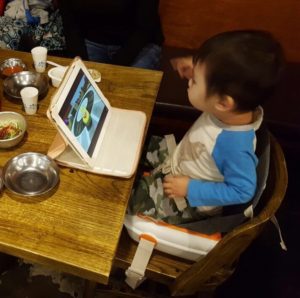 Have you ever entered a restaurant while travelling with a baby or toddler, only to be turned away because they don't have high chairs? Yes? Fear not! Choose the right portable high chair, that is no longer a problem! Eat wherever you want! The restaurant might even ask where you bought your portable high chair from!
My Best Pick! Review of the Best!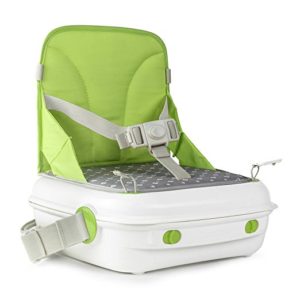 Researched in-depth 20 of the most popular portable high chairs for babies and toddlers. The most popular as purchased and reviewed by Mums and Grandmas in Amazons. The in-depth research involved going through thousands of un-biased and real-life reviews from mothers and grandmothers. In addition to that, as a mother myself I am able to relate to each of those reviews. So in my opinion, the Benbat Yummigo Booster is the best portable high chair for toddlers. Why is it my top choice?
✓ Clever design – compact box-type design with built-in straps and Bonus storage inside the seat so double up as storage and seat.
✓ Plastic box so sturdy and comfortable to sit on
✓ Light weight
✓ Very compatible with any chairs that can be attached to
✓ Easy to Clean – Just wipe plastic material after use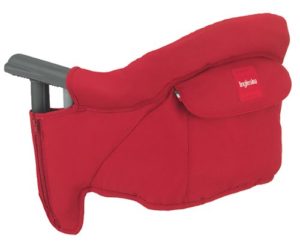 For babies or infant, if they are not quite stable while sitting, then my best pick is Inglesina – Fast Table Chair – Hook on high chair. Why is this my top choice?
✓ Great for babies who is still wobbly with their sitting skills
✓ Sturdy and comfortable to sit on
✓ Light weight
✓ Compact stylish design and comes with a carry bag
✓ Fabric materials used fairly easy to wipe-off
In this review site I will highlight to you as a mum the Top 5 important things you should look for when purchasing a portable high chair for your baby or toddler.
Then, I will take you through the 20 most popular portable high chairs as voted by the thousands of mums from Amazons who has purchased and tested the product. I will highlight and summarised their pros and cons for you for each of the products.
Lastly, I will then summarise all into a quick and easy table for your easy comparison.
Top 5 Things to look for in a portable high chair
for your Baby or Toddler
Safety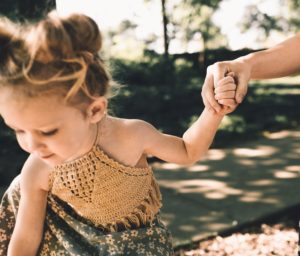 As a mum this is your top priority. Safety of your baby and toddler when using the portable high chair. While all the portable high chairs comes with a safety straps and are designed in its best attempt to keep your child safe, it does not mean it is safe to leave your child un-supervised while in these portable high chairs. They must ALWAYS be supervised. So when choosing your portable high chairs, as a matter of safety your primary factor should be choosing the type of chairs based on suitability of your child's age, their seating comfort and sitting skills. If your child hates the chair and refuses to sit on it, no matter how safe the seat is, it is unsafe for your child to be sitting on it. Other secondary safety features includes:
Safety straps with buckles around the waist: Most straps are usually loosely buckled around the lower waist of the baby or toddler. Unlike car seat's 5-point harness, portable high chairs are not meant to be tightly secured. To me personally, they are more there to "trick" the baby or toddler into thinking they are "tied down" and they tend to sit on the table rather than climbing down from their chair. If you have a hyper-active toddler, they can get out if they really want to.
Safety Straps that secure high chair to the chair: This is quite an important one. You want to ensure that the design of the portable high chair sits well on the chair and can be easily secured around the chair.
For Hook-ons, Clip-ons or Clamp-on high chairs: You want to ensure the clamp can be easily and securely clip / clamp onto a suitable table.
Ease of use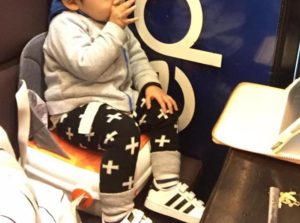 Ensure when you choose your portable high chair that you are comfortable and confident in setting up the portable high chair. If the technicality of the set-up is tricky, you will unlikely be using it. Another factor to consider on ease of use is compatibility of the portable high chair to the different types of chairs or tables you will be attaching it. Will it be a chair or table that you will be attaching to? What type of chairs or tables will be suitable? From the thousands of reviews I have read, the booster seat (my top pick) is the most compatible of all portable high chairs with the different types of chairs. It can be used on 99.9% of chairs you come across. Even benches if I am ok for the booster not to be secured with the straps but it will work. However with other designs such as hook-on or clip-on or clamp-on types portable high chairs, it has to be fixed to a compatible table. You could carrying a portable clip-on high chair everywhere and not be able to use it as the restaurants do not have a compatible table for you to attach it to. This was a major complain from mothers and you do need a bit of luck in terms of compatibility when it comes to using the clamp-on portable high chairs.
Ease of clean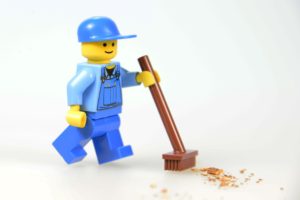 This was one of the most important factors for mums when using their portable high chairs. Whether you are travelling or using this at home, all mums want a clean hygienic environment for their messy toddler to be eating. If the portable high chair design is not catered not messy eaters, it was a major fault by different reasons:
Some mothers prefer to use their own personal high chairs as it is more hygienic and clean than restaurant's high chairs. However if the portable high chair cannot be easily cleaned, then it defeats the purpose of having your own high chair.
For most mothers, we want to hygienic and clean environment for our toddlers to be eating at. If the portable high chair is not designed to stay clean for messy eaters, it means mums are washing the portable high chair every time after a meal and that it creates a lot more work. We might as well just use the proper plastic high chairs from IKEA! Why give ourselves more work to do!
For travellers, washing your portable high chair is not something you want to do. You won't want to be going to the local laundry store to wash and dry your portable high chair. While most portable high chairs boasts that they fabric chairs can be taken off from their frames and thrown into the washing machine to wash, or hand wash and leave to dry in the open. This is not exactly practical when you are travelling!
So the booster seat wins hands down for me in terms of ease of clean as all you need to do is wipe down the plastic section of the booster seat which is the part which gets exposed to food the most.
Comfort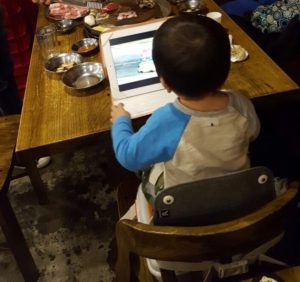 All babies and toddlers are different. Some may be very happy to be sitting in a bucket seat like a clip-on portable high chair or some bigger babies may find it too tight and rather be sitting either on a fold-up high chair or a booster high chair. So make sure your baby is happy and comfortable sitting on the chosen portable high chair. If toddler is happy sitting on it, you are winning! They tend not to wiggle out and will stay with you through meal time and the whole family can enjoy their meal. As well as comfort, you also want to ensure the straps and buckles are not digging into your baby or toddler's thighs. This is not only uncomfortable but can hurt them and they will not want to use your portable high chair ever again.
Portability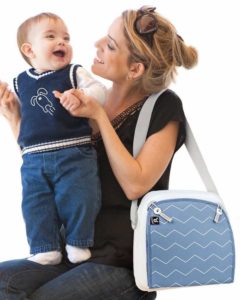 Every family has their definition of what is portable. To me, portable means making my life as a mother easy to carry things while travelling whether it be to the local restaurant or out all day while travelling. For most of the portable high chairs, they are designed to be either compact or fold down to be compact with carry bags. So really, whichever portable high chair you choose, it will be portable but it's a matter of how portable you want it to be to suit your needs. To me, my top pick of the booster seat high chair was most portable to me. Don't let it fool you that it looks bulky! That's probably why it is not a heavily bought item on Amazon because on the outset it does look bulky. But once you own one, you will find how portable it is! The thing is, the booster seat doubles up as a storage box so you can replace your baby bag or at least reduce the size of your baby bag as you can store most of your items inside the booster seat. That is one less thing to carry! If it was a hook-on portable high chair or foldable booster seat or a fabric seat harness, it is one additional item to carry around with you! With the booster, because of the double up on use, I replaced my baby bag. To me that is most portable!
Types of Portable High chairs by Category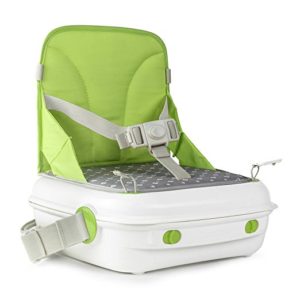 Booster seats – as its name suggests. A box-type booster seat so boosts the height of baby's seating  height to the table's height. Sits  on top of a dining chair and straps on securely to the chair below and back. Cannot be folded so usually comes compact and in a squarish box shape. Most designs allow storage inside the box seat. This was my best pick!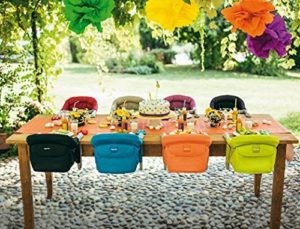 Hook-on / Clamp-on / Clip-on seats – a fabric seat that hooks, clips and clamps onto the table's edge, rather than the chair. Hence the inter-changeable names for it. Brings baby right to the table height but height of baby will depend on how tall baby is.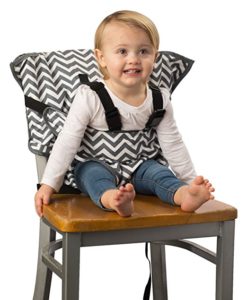 Fabric seat harnesses –fabric that wraps around your baby and the chair holding baby in place so more like a harness rather that an actual seat. Does not give any additional height so baby stays on the chair's height.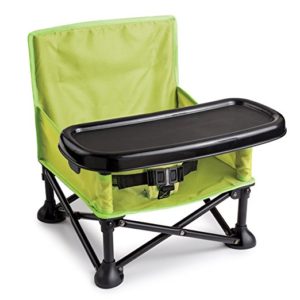 Foldable booster seats – a seat that can fold flat and fold up to open. A bit like a mini camping chair. Sits on top of adult chair and straps on securely to the chair below and back. Gives additional height so baby can sit right up to the table.
Comparison Table – Most popular Portable High Chair
Coming soon…