Hello fellow mums, mums-to-be, dads, dads-to-be, grandpa and grandma
You are here because you are in the market for the best portable high chair either for travelling, a spare high chair at home or just for the local restaurant. Whatever reason it is, you are in the right place. My blog will address what is important for your own personal reasons.
You see, as with all products, it is a personal choice because everyone has their difference reasons for a particular product. One product will be perfect for one family and so not perfect for another merely because of their personal circumstances. For example, for travelling around the world or just domestically which involves a bit of luggage, you probably want something that can last you a whole day when you are out of the hotel room so you may be ok to compromise on quality just so you can get something light and portable. Or if it is just a spare high chair so you can pack away and not take up too much space in the house for grandma's house, you may ok to compromise on portability so you can get something more sturdy and last longer. In this blog I address all the pros and cons as reviewed by thousands…yes thousands of users reviews, mostly mums and grandmas.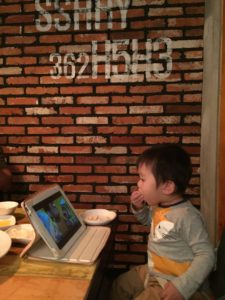 You see, the right portable high chair makes travelling or eating out at a local restaurant so enjoyable. I first bought a portable high chair for the sole purpose of travelling in Seoul as I knew a lot of the local authentic delicious restaurants will most likely not have high chairs. I love to eat and I wasn't going to let this get in the way. So I knew I had to bring my own high chair so I can eat anywhere! That was the best investment I ever made…a portable high chair. I went for the booster high chair as my child was over 1 years so he can sit independently on one of those booster seats and not need extra support on the side. This worked out really well for me as I could also store his belongings in the booster seat box and I no longer need to carry a baby bag.
I am now again in the market for another portable high chair as I am having baby no.2 and now that I know how useful a portable high chair is, I aim to get one even before baby no.2 turns 1! So for this reason, I probably need a portable high chair that has more support than a booster. I decided I will go for the hook-on type high chairs.
So as I went along my research, I decided I might as well document this and help other families out there who may be in the market for a portable high chair. Trust me, once you have one, you won't ever turn back! It's like having a Dyson Vacuum cleaner. Once you have a Dyson, you won't go back!
The research I did on the portable high chairs are in depth where I read through every reviews by genuine Amazon users and there were thousands. If you have read my blog already, there are 4 types of portable high chairs and in each of those categories, I chose the top 5 products in each of the category. And I summarised and reviewed them unbiasedly based on the Amazon users feedback. I will also have a page whereby I give you my personal opinion based on my personal experiences in using a portable high chair.
So enjoy! Hope you get the same joy as I got from my portable high chair.
If you have any questions, please feel free to shoot me a message.