The First Year On-The-Go is a Booster type portable high chair. It's very similar to my favourite and my
best pick

Benbat Yummigo.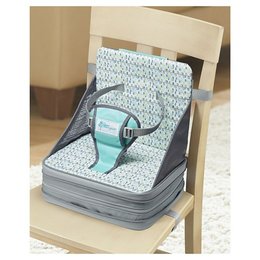 They call this the Magician Mummy's booster seat due to its unique feature with the self inflating booster seat. By just pulling out the valve, the seat will self inflate into a full size booster seat ready to be installed on most chairs. To pack-up, just press out the air to become flat like a lunch bag and fold it up. It comes with a built-in carry handle so makes it convenient to carry around like a lunch bag.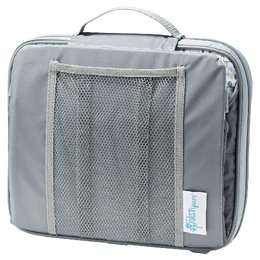 The price tag is also very affordable compared to other similar type booster seats. If you are looking for a booster type seat, affordable, light weight, easy to carry and easy to install, the First Years On-The-Go Booster seat may be the way to go for your little one. Everyone has their own personal needs and wants so I have summarised the pros and cons below to help make your decision easier.
Note: With all types of portable high chairs, you have to supervise at all times. So this chair is no different except it fits on most chairs.
Pros
✓ Compact – compact box-type seat that folds flat when not in use like a lunch bag.
✓ Adjustable booster height – self inflate mechanism to adjust the height of the booster seat
✓ Light weight – Made of cloth throughout so keeps booster seat light weight to carry
✓ Very compatible with any chairs that can be attached to. After a while I become more brave and start using the booster on any chairs like bench type or stools even though I can't strap the back of the seat but if you stay close to your child, you can make it work and stay safe! Just know your child's ability and personality if this can work for you.
Cons
✘  Not suitable for child under 1 years old – As a booster, they don't come with side or back support so the toddler will need to be able to sit upright quite well.
✘  Wobbly inflated seat – This is because being an inflatable, it is made of soft compressible material so back of the seat can be slanting down while being sat on. The side keeps sinking down where the weight of the toddler is sitting. When inflated in full, can be a bit wobbly with the air moving around inside the seat.
✘  Belt harness a bit flipsy
✘  Whole seat is fabric so are not removable – The whole seat is made of material so any food that gets on it, would be hard to wipe off.
✘  Back flap does not hold up itself. Has to be strapped onto back of the chair to hold it up. Although I have used it on chairs without having the back flap strapped on like using it on a bench or stool type seat and it still worked for me.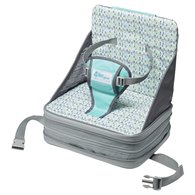 In summary, although the inflatable mechanism was good in principle where the seat can fold flat when compressed and light weight, in practice I think it would be annoying for the parents to see their child on a wobbly seat or a sinking seat. Additionally, being a wholly fabric seat, the seat can't be just wiped clean and can get quite dirty very quickly. Although the price tag is attractive, I would spend a bit more for the Benbat Yummigo seat if it is a booster you are after. The extra cost is worth the investment for longer use and for mums we can keep it clean for longer.