What is a Booster High Chair?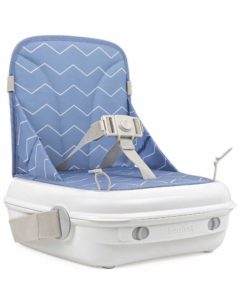 As the name suggests, it is a box-type booster seat so boosts the height of baby's seating  height to the table's height. Sits on top of a dining chair and straps on securely to the chair below and back. Cannot be folded so usually comes compact and in a squarish box shape. Most designs allow storage inside the box seat. This type was my best pick!
Pros
✓ Clever design – compact box-type design with built-in straps. Some models has a Bonus storage inside the seat so double up as storage and seat
✓ Easy to Clean – As the booster seat is installed onto a chair, you can push the chair right up onto the table so less food would fall onto the seat. And if it does, most booster seats are easy to wipe clean as it is not a bucket seat that catches food
✓ Easy to install – It's just a strap at the back and a strap at the bottom of the seat to secure. Very easy installation onto most type of chairs. No need to worry about types of tables you can install on
✓ Light weight – Very easy to carry as most models come in-built with straps and very light to carry around for travelling
Cons
✘  Not suitable for child under 1 years old – As a booster, they don't come with side or back support so the toddler will need to be able to sit upright quite well
✘  Does not fold down flat so can seem bulky
✘  Fabric parts are not removable – Fabric parts of a booster seats are not made to be removed to wash like the Hook-on or Fabric harness, so the best you can do it wipe it down. However with booster seats you can push the chair right up onto the table to reduce less food from falling onto the booster seat.
Top 5 Mum's Best Picks!