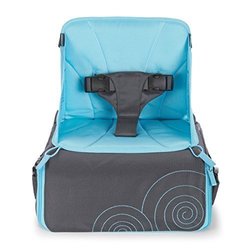 The Munchkin BRICA GoBoost Travel Seat is a Booster type portable high chair. It's almost identical to my favourite and my best pick Benbat Yummigo. The only difference between the two in terms of functionality is the access to storage space, the size of the storage space and type of fabric material used. Other than that, works the same way.
This portable booster seat is a popular Amazon products achieving almost 5 stars from mums who buys for their travelling toddler. This is no surprise given the affordable price point, ease of installation, ease of cleaning, storage compartment that can be accessed while baby is seated and a built-in carry strap too. It ticks the boxes for most mums looking for a portable, compact and functional baby booster seat for travelling.

The price tag is just a little cheaper than the Benbat Yummigo. If you are looking for a booster type seat, more affordable than the Benbat Yummigo with similar features light weight, easy to carry and easy to install, the Munchkin BRICA GoBoost Travel Seat might be the one for you. Everyone has their own personal needs and wants so I have summarised the pros and cons below to help make your decision easier.
Note: With all types of portable high chairs, you have to supervise at all times. So this chair is no different except it fits on most chairs.
Pros

✓ Clever Design – Compact box-type design that is ultra portable as a travel booster seat with a strong and stable internal frame. Comes with built-in straps and Bonus storage inside the seat so double up as storage and seat.
✓ Bonus storage – The bonus storage can be accessed while the seat is in use (yay!) with the toddler sitting on it. However the storage space is smaller than the Benbat Yummigo.

✓ Increased safety – Only seen on the Munchkin BRICA GoBoost, the Xtra-Grip™ traction pads provide a no-slip grip on chairs for increased stability
✓ Portable and Light weight – Made of light weight fabric and internal structures so keeps booster seat light weight to carry with an in-built strap for increased portability.
✓ Easy to keep clean – Made of waterproof and easy to wipe fabric throughout so keeps booster seat easy to keep clean.
✓ Very compatible with any chairs that can be attached to. Similar to the Benbat Yummigo, after a while I become more adventurous and start using the booster on any chairs like bench type or stools even though I can't strap the back of the seat but if you stay close to your child, you can make it work and stay safe! Just know your child's ability and personality if this can work for you.
Cons
✘  Not suitable for child under 1 years old – As a booster, they don't come with side or back support so the toddler will need to be able to sit upright quite well. Although there is a small section of side support in the Munchkin BRICA GoBoost, it is not full side support.

✘  Does not fold down flat so can seem bulky. The booster seat stays the same size "as is."
✘  Belt harness does not hold toddler tightly in place like the car-seat which keeps the toddler safely bolted in. It is really to create resistance so the child does not feel they can run away. This works well for me as it stopped my little toddler from walking across seats and chairs had I not strap him down lightly with the booster straps. There has been reviews by Mums that the T-straps on the Munchkin BRICA are a bit short for the bigger toddlers or when they reach age 3.
✘  Small storage compartment – As mentioned above, although there is a bonus storage compartment, it is not that big compared to the Yummigo Benbat. So you would really need to weigh up the two boosters as to whether an internal storage is important for you if you are to do away with another baby carry bag during the day while travelling.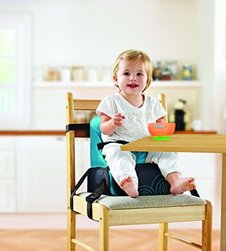 ✘  Fabric parts are not removable – Although the whole booster seat is made of fabric that is easy to wipe down and somewhat waterproof, it does not beat pure plastic that can just be wiped down and not absorb any liquid. It will still absorb liquid and this can't be washes out except to just give it a wipe.
✘  Back flap does not hold up itself. Has to be strapped onto back of the chair to hold it up. Although I have used it on chairs without having the back flap strapped on like using it on a bench or stool type seat and it still worked for me.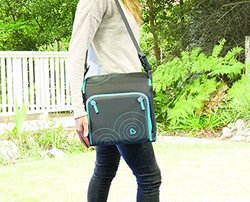 In summary, this is a great portable baby booster seat for travelling where it ticks the more important factors or sturdiness, bonus storage, ease of installation and ease of cleaning. The features are on-par with the Benbat Yummigo and it is also more affordable. No wonder it is a popular product with good reviews in Amazon. But on a personal level, I still prefer the Yummigo Benbat for its bigger storage space as I can do away with an extra baby carry bag during the day when I am travelling. And being made of plastic in most parts of the booster seat, I can easily wipe clean with wet wipes compared to the Munchkin BRICA which is still a fabric type material but waterproof. But if you don't mind the smaller compartment space and a cheaper price tag, the Munchkin BRICA is the way to go.