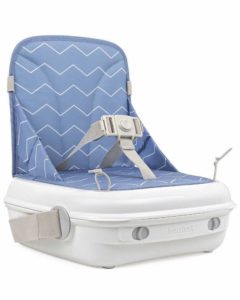 The Benbat Yummigo Booster is a Booster type portable high chair. It's my favourite and my
best pick

out of all of the portable high chairs. To be honest, it didn't grow on me until I actually used it! Since then I have never turned back. In fact I was addicted to using it.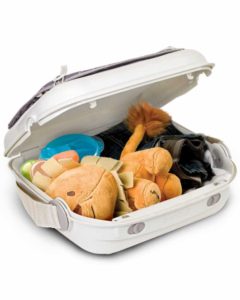 Let me tell you a story, when I first bought the booster seat, I chose it because it looked the most sturdy and it had a convenient storage. But even when I brought it with me on holidays, it sat inside the hotel room for a week! I was reluctant to use it because it looked bulky. It was not enticing to use. It is no wonder the Benbat Yumigo Booster does not have high sales volume as compared to other Amazon baby portable seats. The price point is not on the cheaper end as it is a premium product but also it looks bulky so that could have deterred a lot of buyers. But don't let that fool you! Read on….. However one night, when we decided to eat at a local Korean BBQ place close to our hotel, we knew we had to use the booster as they wouldn't have a high chairs. So we took it with us and started storing things into the container. Wow, we were blown away. We were able to store so much inside that plastic container, we didn't really need to bring another baby bag! Goodbye Baby bag! The only item that didn't fit was the sippy cup but I just put that into my handbag or under the pram as we still needed to use the pram for naps while we were out. No big issues there.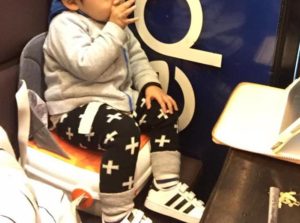 The next day, we just continued using the seat and left the baby bag in our hotel room. The Benbat Yummigo Booster allowed us to eat at any restaurants without having to worry about high chairs and we didn't have to carry an additional item, as it replaced our baby bag! What a treat! Now that is what I called portable and mobile baby high chair! It was also so easy to set up and was flexible with any types of chairs. Provided you supervise at all times, the booster can be used on almost any chairs!
Note: With all types of portable high chairs, you have to supervise at all times anyway. So this chair is no different except it fits on most chairs.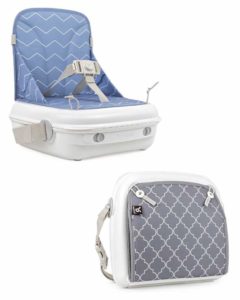 Another big plus worth mentioning about the Benbat Yummigo Booster is the ease of clean. Although there is some fabric material on the seat, it is the section where it is away from the baby's food drop-zone. The food drop-zone is the plastic area and it makes it easy to just wipe off with baby wipes after use. As a baby high chair that is truly portable and mobile, you want to be able to just clean it by wiping it clean and ready for the next use. It's not really mobile if you have to keep washing it at home or look for a washing machine when you are on holidays to clean your portable high chair. So to me, portable or mobile also means the overall use of it's portability and mobility.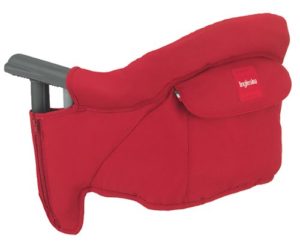 Other mums who have bought it bought it have never turned back. It was the best baby investment they ever made. There are mums who did not like this product and it is usually because their baby is too young to sit on this booster and find it not safe for that reason. The Benbat Yummigo Booster is designed for kids aged 1+ years when they are able to sit up quite well. If your baby is still too young for a booster, then I would opt for another product Inglesina – Fast Chair Table – Hook on type. It's got it's limitation but it is the best product out there for kids under 1 years old that provide the toddler with support if they are not sitting up that well yet.
So there you are mummies and daddies! You have a toddler over 1+ years old, give this a go first. You won't regret it! It ticks all the boxes. I have below summarised all the pros and cons from hundreds of Amazon parents and grandparents. You can weigh up the option and decide if it is for you. Enjoy!
Pros
✓ Clever design – compact box-type design with built-in straps and Bonus storage inside the seat so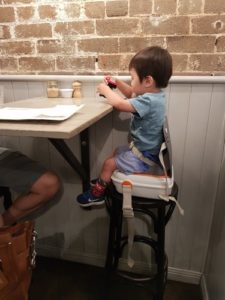 double up as storage and seat.
✓ Plastic box so sturdy and sits flat for greatest comfort
✓ Light weight
✓ Very compatible with any chairs that can be attached to. After a while I become more brave and start using the booster on any chairs like bench type or stools even though I can't strap the back of the seat but if you stay close to your child, you can make it work and stay safe! Just know your child's ability and personality if this can work for you.
✓ Easy to Clean – Just wipe plastic material after use
Cons
✘  Not suitable for child under 1 years old – As a booster, they don't come with side or back support so the toddler will need to be able to sit upright quite well.
✘  Does not fold down flat so can seem bulky
✘  Belt harness does not hold toddler tightly in place like the car-seat which keeps the toddler safely bolted in. It is really to create resistance so the child does not feel they can run away. This works well for me as it stopped my little toddler from walking across seats and chairs had I not strap him down lightly with the booster straps.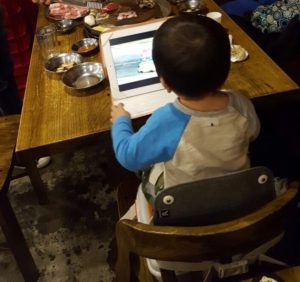 ✘  Fabric parts are not removable – that area is not really in the food drop-zone so not a big deal. 
✘  Back flap does not hold up itself. Has to be strapped onto back of the chair to hold it up. Although I have used it on chairs without having the back flap strapped on like using it on a bench or stool type seat and it still worked for me. 
In summary, although parent's reviews in Amazon.com have their concerns with the Benbat Yummigo Booster seat, I don't see it as being too much of an issue. Those issues can be overcome and the pros outweighs the cons.