Review of Phil and Ted Lobster High Chair
A high chair uniquely distinguished by it's Lobster looking arm clips, the Phil and Ted Lobster portable high chair is also an award winning travel high chair. The portable high chair lobster folds flat into its own compact carry bag, measuring just 35 x 34 x 8cm. The lobster arms clips onto almost any table with its rubber grips and uses a "twist on-and-off" clamp mechanism. The Phil and Ted lobster high chair fabric is made durable, wipes clean and slides right off the high chair frame for recommended hand wash. The harness is 4-point safety harness with padded shoulder straps to keep the toddler securely fasten yet comfortable.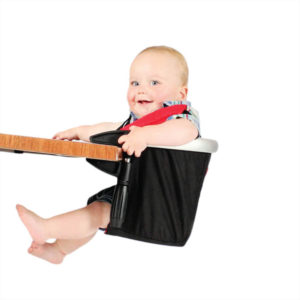 In my opinion the Phil and Ted Lobster portable clip-on high chair is a quality product made with quality clip-ons in the form of a "Lobster" arm. The clips are also highly compatible with large range of thickness from 0.8 to 3.75 inches. However there is one big downfall with its design. The lobster clip-on unlike the Inglesina Fast Chair and Mountain Buggy Clip-on is not compatible with tables with a lip. This is because the clip-on is more a continuous clip as supposed to a bolt on hook like arm.
There is still merit in choosing the Phil and Teds Lobster High chair over the Inglesina Fast Table Chair, given it is a lot more affordable, compact and easiest to install but beware, being small may not suit your child if the seat is too small or too low and whether you would be using the clip-on chair with tables with or without lips. So do you research and below are some pros and cons for you to weigh up.
Note: As with all types of portable high chairs, you have to supervise at all times. Even if you think the chair clips on tight, you just never know how your child can creatively climb out of it or someone bumps it and it falls. So always supervise and stay close with all high chairs, portable or not.
Pros
✓ Compact, Fold Flat and Light weight – Weighing only 3.9 pounds, fold compact and flat for effortless portability when travelling and takes up very minimal storage space.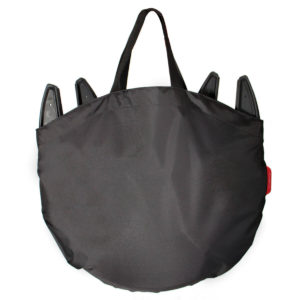 ✓ Comes Carry-bag –  The product comes with a carry-bag so you can store it away neatly in its own snugly fitted bag.
✓ 4-point Harness –  With a 4-point harness and padding, the Phil and Ted Lobster portable high chair will secure a child in there securely and comfortably.
✓ Mostly compatible with tables – The thickness of the table that can be used with the Phil and Ted's Lobster portable high chair is a minimum limit of 0.8 inches and maximum limit of 3.75 inches.
✓ Fairly Easy to Clean – The fabric can be taken off but recommended for hand wash.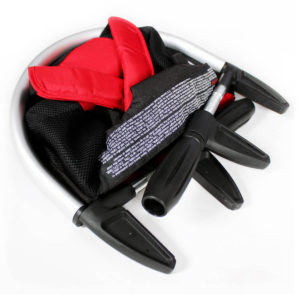 ✓ Quick and easy to set-up – A simple straight forward method of installation. Just twist the screws of the clips to tighten.
✓ Sturdy and good quality – Sturdy clips used for the Clip-on portable high chair as it is made by strong rubber and fastens securely.
Cons
✘  Compatibility with tables – The Phil and Ted Lobster chair although fits most tables does have a table thickness minimum limit of 0.8 inch and a maximum limit of 3.75 inches. This is an issue across all hook-on type portable high chairs anyway so you will need to find out the limitations of each clip-on high chairs an whether it suits your purpose. Note: It is also NOT compatible with tables with a Lip on the edge of the table.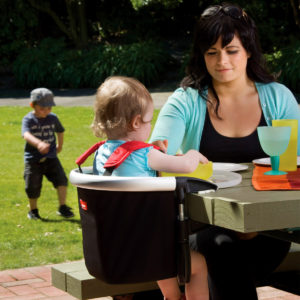 ✘  Hygiene – There is too many nooks and crannies where food can easily get stuck in it.
✘  Too small –  Some mums have reported that the section of the seat where the legs go through are too small for chubbier legs or when babies are being taken out from the seat are stuck in it.
✘  Seat is too deep –  Some mums have reported the bucket seat is too deep and as a result makes it quite difficult for infants or toddlers to be eating comfortable at an adult's table. Babies were hitting their head onto the table if they were not tall enough.
✘  Tray does not stay in place –  Although comes with a tray, it has been reported that it does not stay in place and easily misplaced by a toddler.
In summary, this is a great portable clip-on high chair with great features – portable with carry bag, folds flat, light weight and fits most tables. Although there are some shortfalls of this chair such as the deepness of the bucket seat and compatibility of installation to tables with lips. To overcome this, just ensure you find test it out with the size of your child and tables you intend to use it on. Other than that, it makes a great travelling portable clip-on high chair given it light weight and fold flat feature.