The OXO Tot Perch Foldable Booster Seat is a Booster type portable high chair. Like all booster type mobile baby high chairs it's very easy to install.

What makes this popular Amazon product, OXO Tot Perch Booster seat achieve almost 5 stars from mums who buys for their travelling toddler has a slick design. Just look at it! It's like a designer baby booster chair that folds away neatly when not in use. I want one just because it looks so pretty! So posh! Does not look like a baby booster high chair at all! The price is affordable, easy to install, easy to keep clean just by wiping and a pretty design that is pleasant to the eye.

However, there are few disadvantages to this booster chair which have me choose the Benbat Yummigo booster seat over this one. The two big factors is that the OXO Perch Foldable Booster seat does not have a built-in carry strap for when I am travelling or to hook it onto my pram. Second factor, it does not have an in-built storage space like the Benbat Yummigo. For me, travelling around for 2 weeks in with a toddler, those things are important. Though, everyone has their own personal opinions so to help make your life decision on a great booster seat for your family, below are the pros and cons of this beautiful slick OXO Tot Perch Foldable Booster seat.
Note: With all types of portable high chairs, you have to supervise at all times. So this chair is no different except it fits on most chairs like most booster seats do.
Pros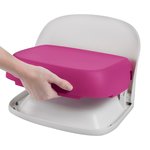 ✓ Easy to Clean – One of a few booster seats that is made entirely of non-porous fabric where it is made from a combination of plastic and synthetic leather so makes cleaning the seat so easy. You just wipe clean. For a deeper clean you can pull it apart to get into the hidden nooks.
✓ Not just a pretty face, also durable and sturdy – The OXO Tot seat does not look like a baby booster seat at all. The design is smooth and slick with nice colour choices. Very posh looking. The seat is also durable with soft cushion seat for ultra comfort and safety. Additionally, the bottom of the seat is non-slip to keep booster secure while perched on an adult chair.

✓ Light weight and compact – The OXO Tot seat is easily folded away into a compact box when not in use. And it is made with light weight material making it easy to carry around.
✓ Easy installation – Like all other booster seats, it is easy to install but what makes OXO Tot better than the others is the hard cover plastic back rest which does not need to be tied to the back of the chair to be held up. It can hold up by itself.

✓ Quality safety straps – The OXO Tot safety straps are durable and can extend to much larger toddlers. Additionally, when not in use or when toddlers no longer need the straps, it can be tucked away neatly under the seat and not left hanging around loosely. Very clever!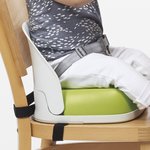 ✓ Very compatible with any chairs – like all booster seats, it is very compatible with all types of chairs. But what makes the OXO Tot even better is the non slip bottom and a hard cover back rest which allows the booster seat to be installed even without being attached by straps to a chair. Of course, this would be for much older kids that just need a boost and of course, at all times need to be supervised.
Cons
✘  Not suitable for child under 1 years old – In fact from the manufacturer at OXO Tot themselves, they only recommend for kids over 3 years old! Personally, the design is very similar to other booster seats, so I don't see why you can't use it like any other booster seats from age 1 when your toddler can sit up well. As long as, they don't need side or back support so the toddler will need to be able to sit upright quite well.
✘  No internal storage – While travelling, the internal storage can be quite a bonus but the OXO Tot does not come with this feature. Though it makes it up with a soft comfortable cushioned seat.
✘  No in-built strap – The OXO Tot although folds flat does not come with any carry bag or in-built carry straps. So if you were travelling, you will need to either put it under a pram or put it into another bag that you are also carrying when travelling.

✘  Crumb Catcher – Not a huge deal as you can take it apart for cleaning but thought to mention this as some mums has raised this concern. The OXO Tot catches crumbs quite easily at the back between the cushion seat and the hard cover back due to its huge gap. However this can be easily solved by taking the seat apart and giving it a good wash given it is made of plastic.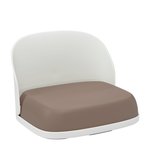 In summary, I think the OXO Tot Perch Foldable Booster is a fantastic booster seat for toddlers. The booster seat is just not a pretty face, it is very functional with good safety and comfort features as well. The only downfall of this seat is the lack of storage space and an in-built carry strap, which if you are travelling is quite important. Although all these factors can be overcome by taking an extra baby bag with you while travelling and you can own a OXO Tot Perch seat that looks pretty at home and when out and about.