What is a Foldable Booster Seat?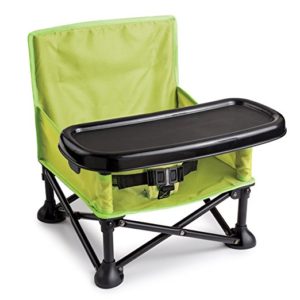 Foldable booster seats – a seat that can fold flat and fold up to open. A bit like a mini camping chair. Another word to describe it, a "pop-up" portable high chair. Sits on top of adult chair and straps on securely to the chair below and back. Gives additional height so baby can sit right up to the table.
Pros
✓ Easy to set-up – You just open out to set up. It just pops out to open.
✓ Light weight – It made with light metal rods and fabric. Stays light weight.
✓ Comes with a carry bag – Comes with a carry bag so ease of portability.
✓ Folds Compact – Folds flat and compact.
✓ Great for camping – The chair is designed like an adult camping chair so does not need to be tied to a chair to be used except if you need to be boosted up onto the adult table, then you will need to be tied to an adult chair. As a camping chair, you can use it on the ground on the beach or on the grass.
Cons
✘  Fabric is flimpsy and easily rip – Common complaints from mums that the fabric easily ripped and with that it exposed metal rods, making it uncomfortable for toddler to sit on if they hit their legs on the rod.
✘  Uncomfortable for most toddlers – As the seat sinks down, it can make for an uncomfortable posture for the child.
✘  Not suitable for big babies – The chair is made quite small so not suitable for big babies so the seat could topple over when the weight is concentrated on the side.
✘  Fabric is not washable – The fabric used is easily wiped down however you can't really take it off for a good wash.
✘  Not sturdy – As with adult camping type chair designs, the chairs are not made to be sturdy. If the child is swaying left to right and trying to get up, they could fall side-ways or back if not supervised. So even though the seat is like a bucket seat, the sides don't really hold the baby safely inside.
Top 4 Mum's Best Picks! 
1.Summer Infant Pop and Sit Portable Booster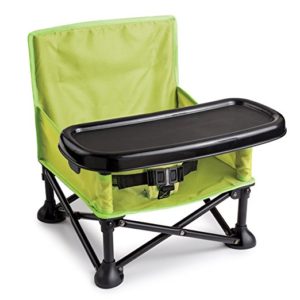 2. Ciao! baby Portable Travel Highchair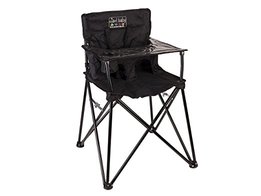 3. Summer Infant Pop and Sit Portable Highchair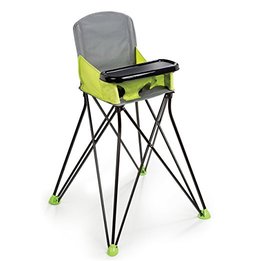 4. Phoenix Baby Goto 2-in-1 Carseat Holder & High Chair