The Summer Infant Deluxe Comfort Seat is a Booster type portable high chair. A slightly different design to the other booster seats but being still a booster type mobile baby high chairs it's fairly easy to install.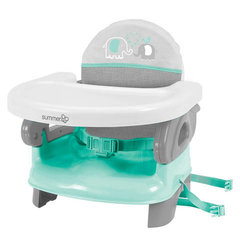 Also another popular Amazon product, the Summer Infant Deluxe Comfort seat has a few unique features making it different to the other booster seats. This portable booster seat is designed with side support and includes a detachable tray so that you can take off the tray when sitting up at the adult's table or put it back on if you wanted to use it by its own on the floor. It also has a seat adjustment whereby you further boost up the seat with fold out legs under the seat. The booster seat is also made with plastic throughout so very easy to keep clean for longer.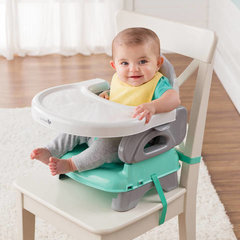 However, there are few disadvantages to this booster chair as highlighted by mums who has bought, tried and tested this portable booster seat. Some common concerns include the size of the seat where some mums has described the seat is so small it is only suitable for a "doll." With that said, it just means the seat could be more suitable for smaller toddlers and will not grow with your growing toddler. Another mum's complaint is the quality of the chair whereby some described it as flimsy plastic again only suitable for a "doll." Despite some of the shortfall of this booster chair I personally think there is still some merit in owning one of this chair being that it does come with a detachable chair and it does have sides to give additional support for the unstable toddler.
Note: With all types of portable high chairs, you have to supervise at all times. So this chair is no different except it fits on most chairs like most booster seats do.
Pros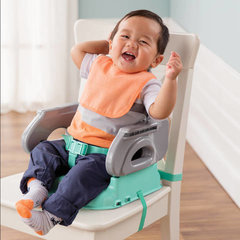 ✓ Has side support – The Summer Infant Booster is one of the few booster seats which has side support and for younger travelling toddlers that are still a little unstable when seated, this is the perfect portable booster seat.
✓ Adjustable seat height – The Summer Infant booster seat comes with a retractable bottom legs that can be folded out to give additional height. This is a bonus if the infant is still a little short coming up onto the same level of the adult table.
✓ Folds flat and compact – The Summer Infant seat can be fold down flat to be stored away flat or put into a carry bag for travelling.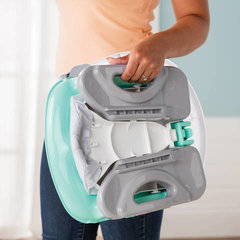 ✓ Easy installation – Like all other booster seats, it is easy to install by fixing the straps onto and around the adult chair. Not much to it!
✓ Very compatible with any chairs or floors! – The Summer Infant booster chair like all other portable booster seats are very compatible with most adult chairs but the additional feature of the Summer Infant booster is that it can be used on its own on the floor without having it attached to an adult chair. It can be a stand-alone booster seat.
✓ Detachable tray – The Summer Infant's detachable tray can come in handy if you wanted to use the portable high chair on its own whether you are on transit in an airport, at the park or on any floor surface. You don't need a table or chair to be attached to in order to use it and you can still have a table tray for your infant.
✓ Easy to Clean – As the whole Summer Infant Booster seat is made of plastic, it can be easily wiped clean and kept clean for longer.
Cons
✘  Limited to size of infant / toddler – As the name suggest, Summer "infant," the booster seat is aimed at infants rather than toddlers. As a result of that, the seat is smaller than other booster seats. Mums have complained it is really only suitable for a "doll" as it is so small and tight for their babies. This seat is probably more suited to smaller sized infant or toddlers and would be unable to grow with your toddler hence you will get limited use in the longer term.
✘  No internal storage – The Summer Infant seat is purely a portable high chair and designed that way so there is no internal storage built-in like two other portable booster seats mentioned Benbat Yummigo and Munchkin BRICA GoBoost Travel booster seats.
✘  No in-built strap or carry case – The seat does not come with any carry bags or in-built carry strap for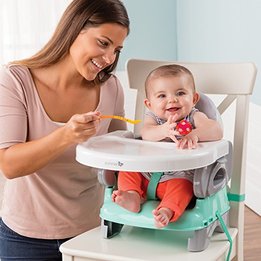 travelling so you will need to buy a carry bag or put it under the pram when you are travelling. Most other booster seats come with in-built carry straps so making it very versatile for travelling.
✘  Detachable tray tricky to take on/off – Although the Summer Infant booster seat comes with a detachable tray, mums have reported it is not only difficult to take off and put back on, it is also a hazard to put it on while the baby is seated. And you can really only put it on when they are seated. When you do put it on while the baby is seated, you have to watch that it is not pinching the skin of the baby. So watch out!
✘  Flimsy material – Some mums have complained that the plastic seat feels flimpsy and so does not feel safe for their bigger infants or toddlers to be sitting on it. Additionally the straps and buckles are also of lower quality where the adjustable mechanism slides loose after tightening and some buckles have broken for some mums.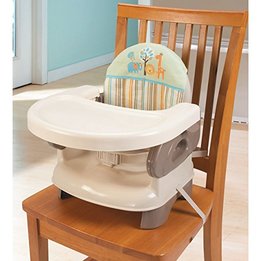 In summary, overall on a personal level the Summer Infant Booster Foldable seat is not my favourite seat but you do have to give this booster seat some merit. It is one of the few booster seats that you can fold flat to take for travelling and suitable for an infant just learning to sit as it has side support. All other booster seats do not come designed with side support. So who would buy this seat? I think if you are travelling and have an infant that is just starting to sit up, this could be the seat for you. The fold-flat mechanism gives your mobile portability and the side support is needed for your infant to stay safe and secured in the seat. Also being a booster seat, it is very compatible to most adult chairs for easy installation. If however you are looking to explore further and want an alternative to a booster seat and for an infant with side support and still be able to travel, I would recommend exploring the Hook-on seats.