What is a Hook-on High Chair?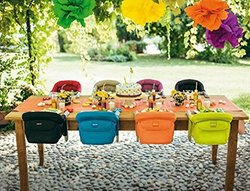 Hook-on / Clamp-on / Clip-on seats – a fabric seat that hooks, clips and clamps onto the table's edge, rather than the chair. Hence the inter-changeable names for it. Brings baby right to the table height but height of baby will depend on how tall baby is.
Pros
✓ Suitable for Infant (6+ months) – As hook-on portable high chairs are bucket seat by design, it means it is well suited for infants and toddlers who are able to sit up but can't sit up that independently yet or still wobbly as they still need the side support like a bucket seat. Whereas a Booster seat will give no such side support.
✓ Fold Flat – As the whole bucket seat is made of fabric held by metal frames that are collapsable, it means the seat can be fold flat when collapsed. Making it easy to transport. Also it makes storage very minimal around the house and when travelling in your suitcases.
✓ Light weight – The fabric and metal frames are minimal structures so the actual seat is light to carry around.
✓ Fabric can be washed – Some of the hook-on high chair models can washed in the washing machine and air dried by taking the fabric out of the metal frames. Though I caution that most mums found it was not that easy to take out and then put it back into the frames eventhough the instructions say you can take it out to wash. So although this is possible, it may not necessarily be easy to do.
Cons
✘  Not suitable for child over 3+ years old (or over 15 kgs) – As the seat is held by only two clamps through a hook-on or clip-on mechanism, a child that is heavy, and I use an indication of 3+ years old, or even younger if they are heavy, will not be safe in these type of seats. I would personally recommend when they turn 1+ years old or able to sit up independently that you use a booster seat as you are able to use the seat for a lot longer. The booster will not have weight issues
✘  Not easy to keep clean – Although manufacturers may claim some of the seats can be taken off and thrown into the wash, there are a few things to consider here. Common complaints are:
it is actually quite difficult to take off and then put back together so this may not be practical
if you are travelling, it is not practical to be putting this into the wash and then wait for it to dry. You may not be in a position to do this. So when it comes to keeping a portable seat clean, booster seat will always win hands down
Being a bucket seat, you will always catch food between the table to where the baby is. When the food is caught inside the bucket seat, it is stuck inside the folds and a chore to find them in between the folds and brush it off
✘  Not easy to install – Not all designs are easy to install. The metal rods and clips or clamps may be a bit complicated to start with.
✘  Compatibility to tables – All hook-on high chairs will have this problem. Some may be more compatible than others to various tables but will not be compatible with all tables. Things to consider are where the lip of the table is, how deep is the lip, how thick the table is, etc.
✘  The hook/clamp can cause marks on tables – Depending on what table you have and what model hook-on high chair you have, it could cause marks or damage to the table as you do have to tighten it quite tight onto the table
Top 5 Mum's Best Picks!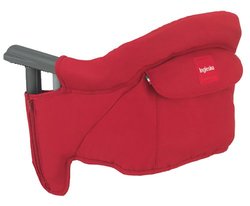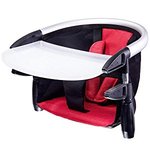 4. Chicco Caddy Hook-on Chair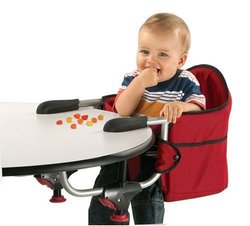 5. Chicco 360 Hook-on Chair